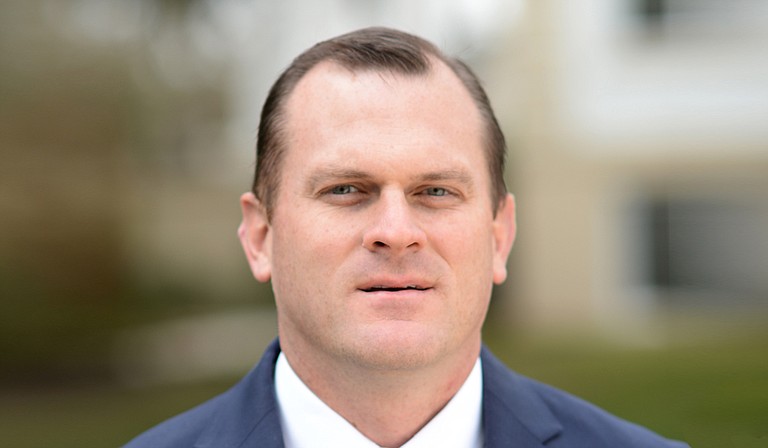 Wednesday, September 5, 2018
When head coach Hal Mumme left to become offensive coordinator at Jackson State University, Belhaven University needed to find a new leader for its football program. The Blazers found one in Blaine McCorkle.
McCorkle has spent the last nine seasons in three programs—Liberty University, the University of Richmond and the University of Delaware—with current UD head coach Danny Rocco.
After 19 years coaching, this is McCorkle's first time in the lead position. He has spent most of his career as an offensive line coach but has worked with tight ends, wide receivers and special teams. This is an unusual choice, as most head coaches were offensive and defensive coordinators before moving up.
"The biggest fallacy in coaching (in my mind) is that you have to be a coordinator before becoming a head coach," McCorkle says.
The coach has plenty of work to do at Belhaven. The Blazers have not had a winning season since 2012 and have not won more than seven games since 2006. But he has worked in programs with quick turnarounds.
He joined Rocco at the University of Richmond in 2012 to rebuild a team that was coming off a 3-8 record in 2011. The Spiders reversed their record in year one to 8-3 and followed it up with a 6-6 in the 2013 season before winning between nine and 10 games from 2014 to 2015.
The same thing happened at Delaware, where the Blue Hens went 4-7 in the 2016 season before Rocco and McCorkle arrived. In the 2017 season, the team reversed its record again to 7-4.
McCorkle hopes lessons he learned from Rocco will allow him to be successful quickly at Belhaven.
"First, you have to get the kids to trust you, and when things haven't been going well, they are hungry for trust," he says. "As quickly as you can try to get trust so kids will buy in to what you want to do with the program. Then you need administrative support, student support and alumni support, and that is what we got right away when we arrived at Belhaven."
McCorkle says getting the right coaching staff is vital to turn around a program. He singled out defensive coordinator Melvin Smith as an important hire after Carlton Buckels left to take a job at the University of Tulsa.
"He has been phenomenal after coming in midway through spring, and brings toughness and discipline to our team," McCorkle says of Smith. "He is great mentor to our young staff, and we are lucky to have him."
While coaches are mostly judged on wins and losses, McCorkle knows this team should be judged on how it improves.
"Our slogan is 'win today,' and that doesn't mean just on the field but making the right choices and doing the right things," he says. "Every team has goals but our goals are developmental and improvement. I want us to improve everyday."
Belhaven plays Texas Lutheran University on Sept. 15. For more information, visit blazers.belhaven.edu.