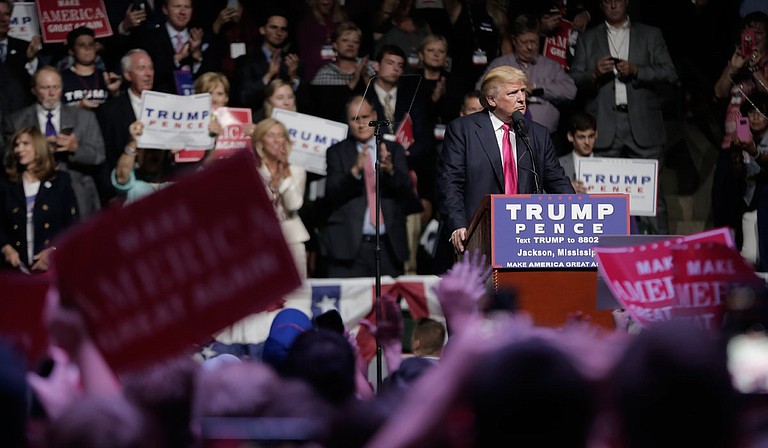 Friday, September 7, 2018
JACKSON — UPDATE: President Trump's planned Friday rally in Jackson with U.S. Sen. Cindy Hyde-Smith has been cancelled due to Hurricane Florence, a major category 3 storm that is expected to make landfall in the Carolinas sometime between Thursday night and Friday morning. It does not pose a threat to Mississippi or the Gulf Coast region.
President Donald Trump plans to hold a rally in Mississippi to support incumbent Republican U.S. Sen. Cindy Hyde-Smith as she fights to hold the seat that Gov. Phil Bryant appointed her to in April.
The rally—set for 6:30 p.m. Sept. 14 at the Mississippi Coliseum in Jackson—promises Hyde-Smith another victory in the war she has waged for months with Republican opponent U.S. Sen. Chris McDaniel over who is the true "Trump candidate." Doors open at 3:00 p.m. the day of the rally.
"We are thrilled that the president will be here to support the senator and her campaign," Melissa Scallan, Hyde-Smith's communications director, said in a press release Friday morning. "Cindy-Hyde Smith has supported him 100 percent since she took office, and she looks forward to his visit to her home state next week."
Bryant appointed Hyde-Smith to her seat in April after Sen. Thad Cochran stepped down for health reasons. Instead of a party primary, both Republican candidates will face off against one another and a Democratic challenger, former U.S. Secretary of Agriculture Mike Espy.
After staying neutral for months, Trump endorsed Hyde-Smith on Aug. 23, even as the two GOP campaigns vied for the support of their party's president. McDaniel accused the party establishment of "pressuring" Trump into supporting Hyde-Smith and pointed to Trump's endorsement of him in 2014, when he unsuccessfully challenged Cochran for the seat in a party primary.
"With only 60 days from now until election day, President Trump looks forward to visiting the great state of Mississippi to urge Mississippians to get out and vote for Cindy Hyde-Smith in November," Michael Glassner, chief operating office of Donald J. Trump for President Inc., said in a press release. "The president will also update Mississippi patriots on the great success of his tax cuts, immigration enforcement, veterans reforms and more."
In a Facebook post shortly after the rally's announcement, McDaniel urged supporters to welcome the president.
"When he arrives, let's thank him for his service," McDaniel wrote. "And then, let's remind him about the real MAGA candidate and conservative in the race for U.S. Senate. We can't MAGA if the establishment gets to make dirty back room deals and hand picks the next senator from Mississippi! Drain the swamp!"
Trump's appearance could provide a boost for Hyde-Smith after internal polls from her campaign and Espy's campaign last month found her functionally tied with or trailing the Democrat, with McDaniel bringing up a distant rear.
Nate Silver at FiveThirtyEight is citing data indicating that Hyde-Smith is the most reliable pro-Trump vote in the U.S. Senate, with a 100-percent pro-Trump record five months in.
Trump also endorsed U.S. Sen. Roger Wicker, who faces a challenge from Democratic State Rep. David Baria of Gulfport in a separate race.
The U.S. Senate special election between Espy, Hyde-Smith and McDaniel is on Nov. 6, 2018—the same day as the national midterms and the regular U.S. Senate election between Wicker and Baria. Polls will be open from 7 a.m. to 7 p.m. in Mississippi.
Ashton Pittman covers politics and elections for the Jackson Free Press. Email him at ashton@jacksonfreepress.com. Read more 2018 campaign coverage at jfp.ms/2018elections.