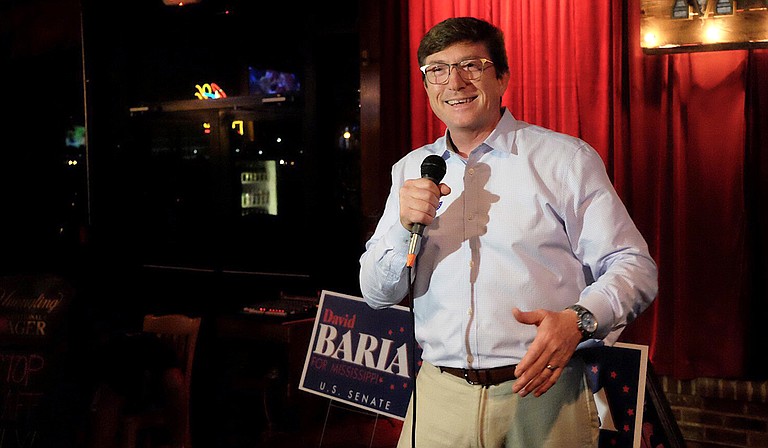 Wednesday, September 12, 2018
JACKSON — In his first general election campaign ad, Mississippi Democratic House Minority Leader David Baria positioned himself as an unapologetic liberal in his bid for the U.S. Senate seat that Republican U.S. Sen. Roger Wicker currently holds.
"They said, 'Don't bother running. A Democrat can't win in Mississippi,'" Baria says in a highly-polished video ad his campaign released on social media on Sept. 7. "I've heard that before, because I'm a Democrat who supports Roe v. Wade, gun-safety reform, Medicaid expansion, campaign-finance reform, voting rights, fair redistricting, equal pay and finally, changing our state flag."
In the ad, Baria disputes the idea that those positions mean he can't win; he held them when voters elected him to the State House three times, he says. He points to Alabama, which elected Democrat Doug Jones to the U.S. Senate last December.
"But most of all, you can just feel it," Baria says. "People all across our state are ready for a change."
A Break With The Past
Baria's strategy is a rebuke of recent unsuccessful efforts from Mississippi Democratic U.S. Senate candidates who had serious party backing. Past candidates have run on more conservative platforms, hoping to peel off GOP voters. In 2008, Democrats ran former Gov. Ronnie Musgrove, who angered liberals during his tenure as governor by signing a bill banning lesbians and gays from adopting.
More strikingly, in 2014, Mississippi's Democratic U.S. nominee Travis Childers, who voted against the Affordable Care Act when he was in Congress, described himself as "working man's candidate" who opposed abortion, federal regulation of greenhouse gas emissions and marriage rights for same-sex couples.
On immigration, Childers ran to the right of the Republican incumbent he was challenging—then-Sen. Thad Cochran—and signed an anti-immigration pledge with the Federation for American Immigration Reform, which the Southern Poverty Law Center Identifies as a hate group with ties to white supremacist organizations like the Council of Conservative Citizens.
The night Baria won the Democratic nomination for U.S. Senate in June, he told a crowd of supporters he intended to run a proudly Democratic campaign.
"We decided at the beginning to run the campaign we wanted to run," Baria said. "We didn't want to be middle-of-the-road, trying to run away from who we are and what we stand for, so we decided to do this the way we wanted to do it."
Baria faces off against Wicker on Nov. 6, 2018. On the same day, voters choose representatives in all four of Mississippi's congressional districts, and incumbent Republican U.S. Sen. Cindy Hyde-Smith faces challenges from Republican Mississippi State Sen. Chris McDaniel and Democrat Mike Espy, who served as U.S. Secretary of Agriculture from 1993-1994, in a special election. Polls in Mississippi are open from 7 a.m. to 7 p.m.
Ashton Pittman covers politics and elections for the Jackson Free Press. Follow him on Twitter @ashtonpittman. Email him at ashton@jacksonfreepress.com. Read more 2018 campaign coverage at jfp.ms/2018elections.