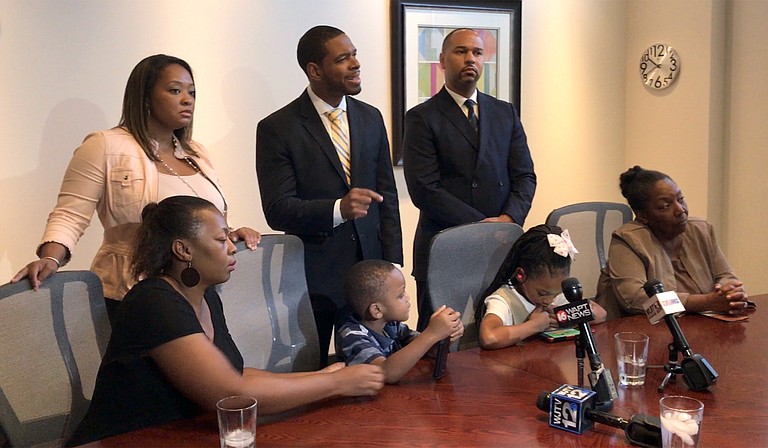 Monday, September 17, 2018
JACKSON — Eight months after two Jackson Police Department officers fired fatal shots at 21-year-old Crystalline Barnes following a traffic stop, her family filed a $10 million federal lawsuit today against three JPD officers and the City of Jackson in the U.S. District Court for the Southern District of Mississippi.
The lawsuit accuses Officers Rakasha Adams and Albert Taylor of subjecting Barnes to excessive, unreasonable and unnecessary physical force when they fired shots into her vehicle on Jan. 27. An April no-bill list from a Hinds County grand jury shows that neither Adams nor Taylor was indicted in this incident. Officer Adams appears a second time on this no-bill list for for allegedly shooting and killing an unidentified man in November 2017.
The civil-action suit comes on behalf of Barnes' two young children—a 2-year-old boy referred to as "K.B." and a 6-year-old girl called "J.H."—and their legal guardian, Lenda Burns of Jackson. Jason Downs, a Baltimore-based lawyer who once represented Freddie Gray's family, his law partner Tiffani Collins, and local attorney Carlos Moore represent the Barnes family and the victim's estate. This legal team alleges that JPD and the City of Jackson failed to ensure that officers would not use excessive force and deprive "persons, including Crystalline Barnes, of her constitutional right to be free from excessive force."
The suit also accuses a third officer, Eric Morris, of conspiring with the other two to cover up the incident in police reports and "hide the truth about the circumstances of Ms. Barnes' slaying, and to obstruct the administration of justice."
"But despite this conspiracy, the Barnes family remains undeterred in seeking justice for Crystalline's death," Downs said as he stood behind the Barnes family in Moore's law office in Ridgeland this morning. "Justice comes in many forms as we know. One form is the criminal justice system. But, in this case the criminal justice system has failed Crystalline's family—just like it has failed many victims of police misconduct around this country."
The Jackson Police Department could not be immediately reached for comment at press time.
Trouble Identifying Officers
It is likely that the only reason the names of the two officers are in the public sphere is because of Downs' and Moore's legal efforts. The Jackson Police Department has never publicly released the names of officers in any officer-involved shooting in the history of the city.
"We had to file a legal pleading to confirm the names," Downs told the Jackson Free Press.
In May, Downs and Moore filed a petition for the City of Jackson to release names in Barnes' shooting. In those documents, Downs and Moore said that they filed a public-records request in April for any and all 911 calls, documents, footage including those from body cameras, police reports, and virtually any media or documentation involving the Barnes death. In return, Downs and Moore said JPD provided them a one-page incident report without including the name of either officer in the shooting.
About a week before filing the petition, Downs told reporters on the lawn of City Hall that he knew Officer Rakasha Adams had shot Barnes and that he suspected Albert Taylor had been the second officer, but needed confirmation. Attorneys Downs and Moore told the Jackson Free Press that this now-dismissed petition resulted in attorneys for the City of Jackson revealing Adams' and Taylor's names to them. Notably, neither legal party released those names in public record, as court documents merely state that parties "reached a resolution" on June 13.
The Jackson Free Press has not independently reviewed the incident report about Barnes' death, but has sent in a public-records request to obtain it. However, this newspaper has previously reported on inconsistencies in JPD's initial description of the incident compared to that of Barnes' lawyers.
The federal lawsuit repeats Downs' claims stemming from an investigation into Adams that uncovered she has allegedly described herself as "easily irritated and angered." Barnes' lawyers accuse JPD of failing to take "any action" to properly psychologically screen, train and discipline officers after Adams was allowed to return to duty after allegedly killing an unidentified man in November 2017.
Beyond issues with individual officers, Downs has expressed issues with the City's silence around these issues and lack of transparency. He echoed those grievances today.
"For far too long, the Jackson Police Department has used excessive force against people with no fear of being held accountable, but that stops today," Downs said this morning. "Today, the Barnes family has taken a step toward holding those officers responsible for shooting Crystalline in the back of the head, in the back of the neck and in the back."
A Jackson Free Press analysis of news reports and JPD public statements uncovered nine officer-involved shootings since July 2017, with three deadly incidents in 2018 thus far. JPD's lack of transparency makes it difficult to keep track of officer-involved shootings, both fatal and non-fatal.
Mayor Chokwe Antar Lumumba appointed a task force of community members to draft policy relating to the timeline the City will release officers names after shooting citizens. After five months, the task force submitted its draft to the mayor on Sept. 7. Mayor Lumumba has not yet made any subsequent policies around the matter, and has only offered vague remarks about the task-force's conclusions to date.
"Currently, the recommendations brought forth from the Police ID Task Force have only been presented as a draft. We are still awaiting an official recommendation to be given to myself and the City Attorney's Office," Lumumba said in a statement on Sept. 12. "We look forward to receiving the official recommendations from the Task Force and adopting new policies as they relate to the handling of officer involved shootings in the City of Jackson."
Life Without 'M-O-M-M-Y'
This morning, Downs spoke on the family's behalf at a press conference at Moore's office. Downs said the Barnes family is not yet ready to speak publicly, but likely would in the future.
Before the press conference began, Lenda Burns, the legal guardian of Barnes' young children, mentioned that Barnes' 2-year-old boy had recently packed a backpack to leave and go find his mother. She was concerned about keeping an eye on him, not sure of how far he would go to find Barnes. Burns did not speak of Barnes by name, but rather spelled out "m-o-m-m-y," so as not to alert the young boy whom she was referencing.
While Downs spoke to reporters this morning, Barnes daughter' played on a cell phone with her pink headphones in her ears, and Barnes' young son fidgeted in his chair. Perhaps unbeknownst to the kids, Downs talked about pursuing justice on their behalf.
"The fact that the criminal-justice system has not even indicted anyone, part of justice is just completely unattainable at this point," he said. "But then the next question is, what is it worth for a 6year-old to wake up in the morning knowing that her mother was shot in the back of the head. What is it worth for a 2year-old to put on his book bag and say,...'I'm leaving this morning, I'm going to find my mom.'
"Both of these things are happening. What is that worth? Those are questions that are very difficult to answer."
Email city reporter Ko Bragg at ko@jacksonfreepress.com and read more at jfp.ms/policeshootings.