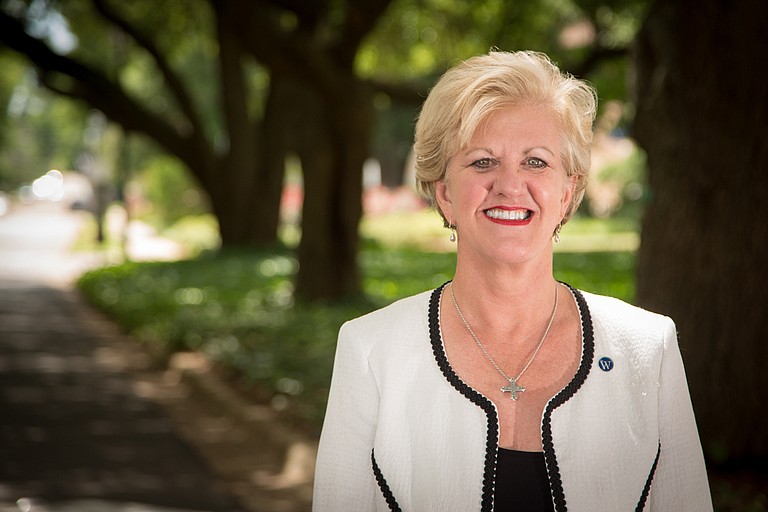 Tuesday, September 18, 2018
COLUMBUS, Miss. (AP) — Trustees on Friday named a new president of the Mississippi University for Women without conducting a full search, elevating acting president Nora Miller after a day of listening sessions on the Columbus campus.
She becomes MUW's 15th president, the first alumna member of the "long blue line" to lead the institution. Miller has worked there for 17 years, most recently as chief financial officer, becoming acting president in March as former leader Jim Borsig prepared to retire.
Miller said she wants to focus on financial sustainability. She's also focused on recruiting more students, making sure they stay enrolled and pushing them to graduation. With 2,738 students, MUW is the second smallest of Mississippi's public universities.
"Our focus will be on opportunities," Miller told WCBI-TV. "Opportunities for our students, opportunities to serve our community and our state, opportunities to improve processes and communication. We will guide our efforts for a positive outcome. We are a resilient university."
It's another example of the board's willingness to pick existing executives to run Mississippi's eight public universities without formal months-long searches that had become customary. The board has skipped searches in naming the last two higher education commissioners, as well as the current presidents of Jackson State University and Mississippi Valley State University.
"Nora Miller understands The W, both from a student's perspective and as a senior leader at the institution," Trustee President Shane Hooper said in a statement. "She appreciates the institution's rich history, unique mission, and the important role it plays in Mississippi's public higher education system."
Trustees praised Miller's ability to plan and focus resources while meeting student demand.
Miller earned a bachelor's degree in business administration and a bachelor's degree in accounting from The W. She earned a Master of Business Administration from Mississippi State University in 1998 and is a certified public accountant. She began working at the university after serving as director of budget and accounting and director of internal audit for the College Board. She also formerly worked at Central Alabama Community College, an Alabama accounting firm and for the Mississippi state auditor's office.
Trustees will hold listening sessions at Alcorn State University on Oct. 2. That university needs a new leader after former President Alfred Rankins was named higher education commissioner. Like at MUW, trustees haven't said if they will conduct a national search or appoint a leader without such a search.