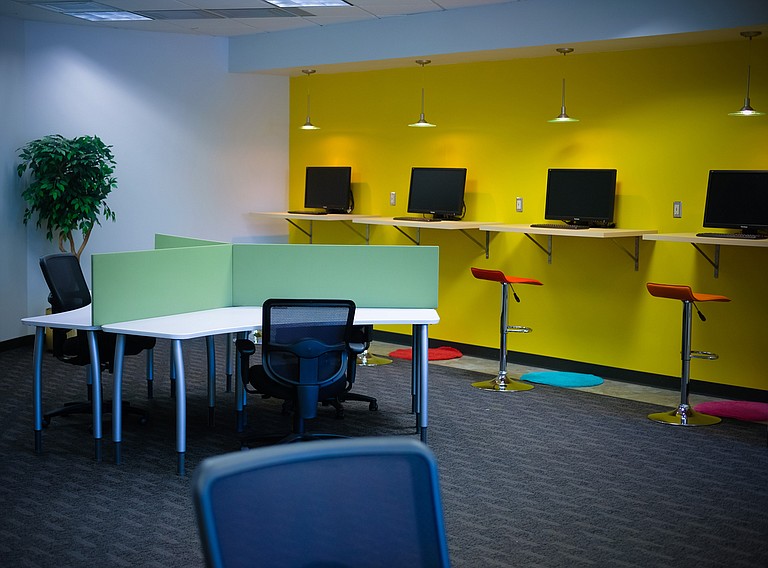 Wednesday, September 19, 2018
April Edwards walks through double doors and down a hallway at Triad Business Centers, and then stops in a conference room to drop the items in her hands off.
She then heads toward a room filled with small clusters of wide white desks, each individual space divided with a light green partition. Off to the side is a kitchen, its overhead cabinets stocked full of Keurig cups, straws and other coffee paraphernalia.
"We come fully stocked," she comments. At the moment, the Triad's coworking office space, is empty, but on any given day, it could be filled with entrepreneurs and business owners looking for a place to work besides a coffee house or at home.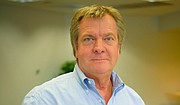 David Robertson opened Triad in 2010 and made it an LLC in 2012. At the time of its opening, it was one of the only locally owned business incubator spaces of its kind. Robertson, who owns the building, needed to fill some vacant spaces after a large tenant moved out. He decided to turn them into incubators for businesses.
"I saw this as a real opportunity to grow and create incubator space for the building itself," he says. The idea was that small businesses would use the spaces, and then as they grew, would eventually become tenants of the building.
"Over time, you kind of realize, we're really developing into a more mobile workforce. People are willing to travel with their cell phones and their iPads, and they don't need the, I guess, historically, what was your typical conventional office-type setup. The large number of independent entrepreneurial sole practitioners out there that are working, and they just need to get out of the house and away from the kids, and off the kitchen table, and they need somewhere where they can have a professional business address, can conduct meetings, can work either solo ... or together as a group, and collaborate with others, a place to hold meetings, and we're trying to actually create that environment, and that workspace."
Earlier this year, Edwards began working at Triad through a local temp agency, but after her first interview, she says she was blown away by the company's mission of helping startup businesses.
"I've signed up people that just got their LLC," Edwards says. "It's just, the opportunity to have a business presence without having to pay an arm and a leg. That excited me."
She moved up through the ranks and into her current position of assistant manager, which she took in March 2018.
Triad has full-time office packages, but Robertson says the business has 90-percent occupancy in those. The business also has virtual office packages.
"It's basically something for everyone," Edwards says. "Let's say you're just starting out, and really all you need is a business address and a presence, but then you can advertise that this is where you are."
At the most basic level, the virtual-office package includes a professional business address, mail and package receipts, and a personal mailbox. Starting at the coworking level, participants get access to the open desk spaces, and the included amenities go up with the package.
"Think of it as kind of a timeshare for office space," Robertson says.
Triad currently has about 100 virtual-office members, including VetGuard Medical Supply, BB General Contractors and more. In the past, nonprofits such as the The Medgar and Myrlie Evers Institute have had virtual office presences.
For more information on Triad Buisness Centers (460 Briarwood Drive, Suite 400, 601-709-4610), visit triadbusinesscenters.com or find the business on Facebook.