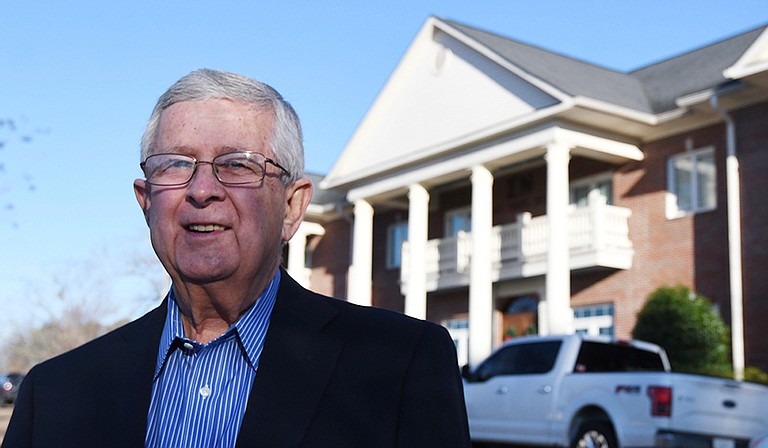 Friday, September 21, 2018
OXFORD, Miss. — It all started on Facebook Wednesday night, Sept. 19, when Ed Meek, the eponym of the School of Journalism and New Media at the University of Mississippi, posted a photo of two black university students paired with a caption blaming the young women for crime and plummeting property values.
"I hesitated until now to publish these pictures but I think it important that our community see what the camera is seeing at 2 a.m. after a ball game," he wrote, adding that he saw no police presence despite hearing about fights. "Enough, Oxford and Ole Miss leaders, get on top of this before it is too late. A 3 percent decline in enrollment is nothing compared to what we will see if this continues...and real estate values will plummet as will tax revenue. We all share in the responsibility to protect the values we hold dear that have made Oxford and Ole Miss known nationally."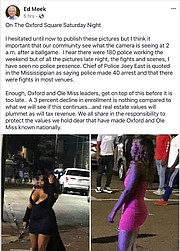 Following thousands of comments and public outcry, Meek issued a quasi-apology via Facebook. "I apologize to those offended by my post," he wrote. "My intent was to point out we have a problem in The Grove and on the Oxford Square."
Meek did not respond to requests for comment at press time.
Mahoghany Fires Back
Since then, people have shared photos of Mahoghany Jordan and Ki'yona Crawford thousands of times, not always with their faces blurred out, launching them front and center into a controversy they did not stir up.
Jordan penned a column in the Daily Mississippian lambasting Meek for a post she said reeked of "racist ideology as well as misogyny."
"Ed Meek's post was not meant for me nor my good friend (Ki'yona) Crawford. We weren't the ones fighting Alabama fans at a tent in the Grove, we weren't harassing our LGBTQIA+ counterparts, nor were we the ones fighting in front of bars around the Square. However, somehow for Meek, the blame for the university's enrollment decline and city's decline in property value was easier to associate with two women of color as opposed to the particular demographic that has been at the forefront of the school's most controversial moments by far."
Jordan said that she has worked hard to embrace her "voluptuousness" as well as her skin tone, and that she does not need an apology from Meek or his "reciprocal guilt."
"In closing, I relinquish being over-sexualized, scapegoated and invalidated by anyone. I deserve to feel secure in my skin on this campus and in this town just as my counterparts do and I will continue to carry on as such," she said.
Today, Sept. 21, The Daily Mississippian editorial board called for the Meek School of Journalism and New Media to cut ties with the school's namesake in an effort to stand against hate—something they point out has not always been the case within the paper's history, nor UM has a whole.
"The Daily Mississippian of today rejects our university's history of complicity and, instead, chooses to stand against hate," the editorial says. "(Meek's) name and the division it has come to represent do not align with our values. This change is absolutely necessary to uphold everything we stand for—as journalists, as students, as individuals. Students should not have to attend a school whose name makes them feel discriminated against."
In 2009, Meek and his wife donated $5.3 million to the journalism school, and the department became his namesake.
Other student groups are acting in solidarity. UM's Black Student Union issued a statement via Facebook on Thursday demanding that UM Chancellor Jeffrey Vitter release a public statement to the student body condemning "racist comments made by Ed Meek," and for the school's journalism school to do the same.
The university met those demands.
"We have heard the calls for the Meek name to be removed from our building," Will Norton, dean of UM's journalism school said Thursday in a video statement. "We have heard the comments that suggest that that response would be too harsh. We are continuing to listen and continue to respond. We expect to make a recommendation to Chancellor Vitter in the very near future."
Jordan: 'Am I Protected'?
Vitter responded to Meek in a Facebook comment echoing the call for a safe campus, but condemning the post for suggesting "an unjustified racial overtone that is highly offensive." He also encouraged Meek to withdraw his comment and apologize.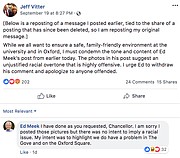 The chancellor then issued an official statement iterating the university's outrage and willingness to support the two students in the photos.
"This social media post was deeply hurtful because of the sentiment conveyed about the presence of African Americans in Oxford and at Ole Miss," Vitter wrote on Sept. 20. "We are outraged that photographs of two of our female African American students were used to make this point. University leaders have been in contact with the students to give them support and assistance."
Vitter also announced a listening session, which was held last night, Sept. 20, on the Oxford, Miss. campus.
The Daily Mississippian reports that hundreds of students came together at the forum, including Jordan and Crawford.
"Meek has put a crack in my foundation," Jordan said at the forum. "Am I really accepted? Am I protected? I can't give you a wholehearted 'yes' anymore. I really can't, and that's sad to say." Crawford also spoke, The Daily Mississippian reports. "When I first saw the post, I was confused as to why our pictures were being shown—and only our two pictures," Crawford said. "And then I critiqued his statement. He said something about the drop in enrollment rate, and he said something about the property values decreasing. And I'm sitting here like ... is he trying to imply that we're prostitutes? Like what is he trying to imply?"
UM alumnus have also flooded social media with statements of solidarity with those on campus, including former editors at the Daily Mississippian.
There is also a Change.org petition for Meek's name to be removed from the journalism school. It had nearly 2,500 signatures at press time.
Meek's Other Enterprises, Media Efforts
Meek is a former assistant vice chancellor for public relations and marketing at the university and the CEO of Oxford Publishing, a national publishing and trade show group, who has recently received the Mississippi Governor's Distinguished Citizen Award. He is the founder of HottyToddy.com, which stills lists him as the publisher and currently indicates an all-white staff on its website. However, The Clarion-Ledger reported this week that Meek is no longer publisher and that the University of Mississippi just acquired the site within the last week or so.
The HottyToddy.com site indicates that HottyToddy.com LLC is a division of New Media Lab LLC, which it says provides all profits to support the Meek School of Journalism and New Media. It was not officially affiliated with the University of Mississippi, although journalism-school Dean Will Norton and Associate Dean Charlie Mitchell are shown as members of HottyToddy.com's 11-member board, as well as on New Media Lab's mostly white board, with one woman. Nine members of the HottyToddy.com board appear to be white men, with one white woman and one black man rounding out the roster.
Meek previously told the Jackson Free Press that he was involved in the initial planning for Mississippi Today, a nonprofit news website in Ridgeland, Miss., founded by NBC News Chairman Andrew Lack with close ties to University of Mississippi staff and alumni. Dean Norton also sits on that website's eight-member board, of mostly white men, which contains two women and two members of color, including one of the women.
Dean Norton and other assistant deans posted on Facebook that Meek's commentary is not a reflection of the journalism school. "This post is in no way associated with or represents our school, our students or our faculty. We are embarrassed by his actions," the post stated.
In her Daily Mississippian column, Mahoghany Jordan also referred to a book Meek wrote about witnessing the 1962 race riots at Ole Miss.
"As for Ed Meek: one should never use the physical appearance of a person as a measurement of their morality. As you documented in your civil rights book, 'Riot: Witness to Anger and Change,' suits were worn by both the affirming and opposing side during the university's integration process."
Email city reporter Ko Bragg at ko@jacksonfreepress.com. Donna Ladd contributed to this story.