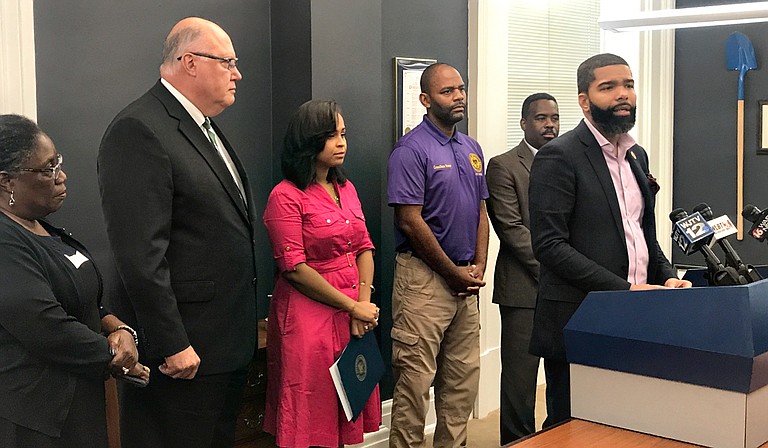 Tuesday, September 25, 2018
JACKSON — Ahead of water shutoffs to nonpaying customers, Mayor Chokwe Antar Lumumba signed an executive order on Monday, Sept. 24, officiating a "Bill of Rights" to those who pay for water and sewer in the City of Jackson. He signed the document to empower citizens and enumerate what Jacksonians are entitled to as the City continues to correct its water and sewer billing process, he said at a press conference on Monday.
"I think that it is imperative that we acknowledge the City's failure over time to provide our customers with accurate bills, timely bills or any bills at all," Lumumba said. "That being stated, the City has an obligation to collect water revenue."
Neither Lumumba nor Public Works Director Bob Miller committed to a date that the shutoffs would begin, but the Bill of Rights lists protections for customers at risk of losing water.
It promises timely and accurate bills to customers, and in the event of errors, the Bill of Rights promises that the City will correct them. The administration also promises to refer struggling customers to programs that may be able to assist paying water and sewer bills. Customers will have the right to appeal the City's written notice of a pending disconnection following nonpayment to the Office of the City Attorney. If the customer loses that appeal, he or she may appeal again to the city council.
The document also says the City of Jackson promises to not disconnect any water or sewer lines until the appeal process is complete. The City will also not shut off water on weekends or holidays when administrative offices are closed, nor in the event of a freeze warning or excessive heat. Citizens who can produce a medical note stating that disconnecting water could be life-threatening to someone in the household will also not have their water shutoff.
Miller promised to give customers abundant notice before shutting off water so that they can exercise the appeal process if necessary. At a city council work session following the press conference, Miller said that he intends to begin water shutoffs before he gets proposed credit and collections software from Origin Consulting, LLC up and running, pending a council vote tonight, Sept. 25. He expects that software to be in use by the third week of October.
Miller encouraged citizens who have not been making payments to either call or come down to the public works department.
"The way to ensure you avoid turnoff for nonpayment is to engage us, to talk to us," he said. "We will fix a wrong bill; we will make appropriate adjustments for leakage; we will make payment plans for folks that are having affordability issues. But, if we don't hear from the customer, we're only left to understand that that customer has left and no longer desires water service, and that results in a turnoff."
This development comes after the City implemented a payment plan in April for Siemens, Inc. customers who had not received a bill, for in some cases as long as a year. Those 20,000 customers "stranded" in the system would have the same amount of months since their last bill to make back payments on water bills. On Monday afternoon, Miller told reporters that only 3,200 customers remain stranded.
The Bill of Rights explains that anyone in need can request a payment plan from the City of Jackson, even those who were not stranded in the system.
The City has not been able to recoup money from those bills quite as fast. At a budget hearing on Aug. 16, Miller estimated that the water and sewer department should be able to collect $7 million monthly, but it averages $3-4 million in revenue every month. In the last year, the City has failed to bring in $10-20 million in revenue from water bills that were either not going out to customers at all or were inaccurate.
The City's inability to collect that money has driven its credit rating down. Earlier this month, Moody's Investors Service downgraded the City's Water and Sewer Enterprise's system and revenue bond rating to a rank of Ba2 from Baa3, citing a negative outlook.
"The negative outlook reflects our expectation that the city will remain exposed to its financially stressed water and sewer enterprise system. We expect the city's water and sewer system to be pressured operationally and financially in the near term and challenged by significant capital needs over the long term," a statement from Moody's reads. "The negative outlook reflects the significant ongoing operational and financial risk posed to the city's general governmental operations by its water and sewer enterprise."
At yesterday's press conference, Miller apologized for how the water-billing system issues have impacted citizens and business owners over the years. He also said some of the elements in the bill are "aspirational" and will require city workers to "stretch" to make them happen.
The mayor said that state law precludes the City from merely forgiving bills, and he also harped on the fact that Jackson needs the revenue to operate its water division but also to support many of the capital improvement projects that all the citizens would like to see, including refreshed roads and pipes.
"Though we don't delight in enacting the collection measure of disconnecting a customer, we have no choice as a city," Lumumba said. "The citizens deserve a system that runs better. The City needs the necessary resources to accomplish that goal. … The urgency of now should be clear. But we don't delight in it."
Email city reporter Ko Bragg at ko@jacksonfreepress.com and read more about Jackson's "troubled water" at jfp.ms/siemens.