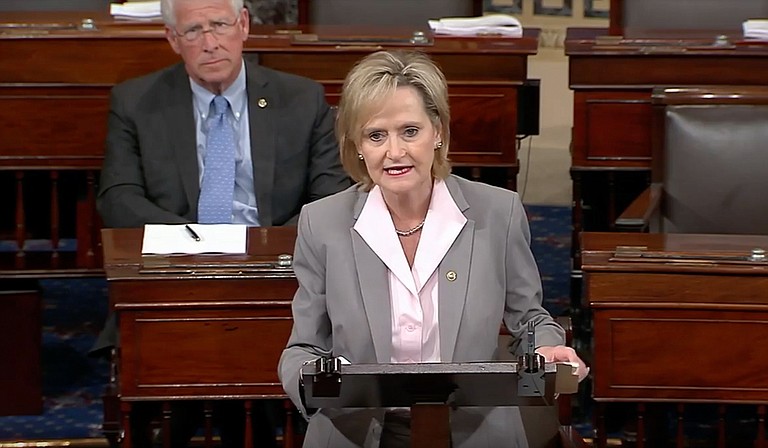 Wednesday, September 26, 2018
JACKSON, Miss. — While addressing the Senate floor for the first time on Wednesday, Sept. 26, Republican U.S. Sen. Cindy Hyde-Smith defended Brett Kavanaugh, President Trump's Supreme Court nominee, after a third woman accused the judge of sexual misconduct earlier today.
"It seems opponents of Judge Kavanaugh are engaged in character assassination to destroy the reputation of a devoted public servant, and a loving husband and father," Hyde-Smith said. "I, for one, will not stand by and watch this happen."
Kavanaugh stands accused of various forms of sexual misconduct, including rape, using date-rape drugs and attempted rape.
Explaining her decision to break with the tradition that newly appointed senators observe and listen for a period before speaking on the floor, Hyde-Smith in a tweet cited her status as Mississippi's first woman representative in Congress.
"Today, I was compelled by my duty to our country, the people of Mississippi, and as the first woman to represent our great state in Congress to speak in strong support of Judge Brett Kavanaugh," Hyde-Smith tweeted.
In her speech, she said that while her heart "breaks for victims of assault and abuse," she considers the accusations "unjust" and a product of the Democrats' partisan goals.
"I believe Judge Kavanaugh when he says these humiliating events never happened—not three decades ago, not ever," Hyde-Smith said, calling him a man with an "impeccable record of service and integrity." She said Kavanaugh, who spoke out Mondayin a Fox News interview, "quickly and convincingly refuted" the allegations.
Hyde-Smith's speech came just days after her Republican challenger in November's special election, Mississippi state Sen. Chris McDaniel, accused her of "silence in the face of adversity" for not speaking out strongly enough in support of Kavanaugh.
On Saturday, before the second and third accusers went public on Sunday, Hyde-Smith's Democratic challenger, Mike Espy, called Ford's allegations "credible" and asked for the Senate to slow down the confirmation process in order to conduct a more thorough investigation.
Attempted Rape, Gang Rapes Among Growing Allegations
The first woman to accuse Kavanaugh, Christine Blasey Ford, appeared separately in front of the Senate Judiciary Committee Thursday, where she testified that Kavanaugh allegedly attempted to rape her at a party when she was 15 and he was 17. Ford has provided notes from a 2012 visit with her therapist in which she described the alleged assault to back up her claim.
After Ford's testimony, Hyde-Smith tweeted, "Let's be clear: Opponents of Judge Kavanaugh are engaged in character assassination to destroy the reputation of a devoted public servant and a loving husband and father. I will not stand by and watch it happen."
An attorney for the second accuser, Deborah Ramirez, said she is willing to testify that Kavanaugh exposed himself to her when she was in college, but Senate Republicans have not responded to her counsel's attempts to communicate, she said.
On Wednesday, attorney Michael Avenatti revealed what may be the most alarming allegations against Kavanaugh, yet. In a signed affidavit, Julie Swetnick claimed that, in the 1980s, she witnessed him and his friend, Mark Judge, use drugs and alcohol in an attempt to get teen girls "inebriated and disoriented so they could then be 'gang raped' in a side room or bedroom by a 'train' of numerous boys."
Swetnick alleged that she was a victim of gang rape at one of the parties with Kavanaugh and Judge present, but did not specifically say the two men participated.
Avenatti is the same attorney who is representing Stormy Daniels, who claims Trump paid her off just days before the 2016 election to keep her quiet about an affair she had with the reality TV star more than a decade ago.
The Senate Judiciary Committee has not invited Ramirez or Swetnick to testify.
Baria Says 'Believe Women'; Wicker Believes Kavanaugh
Mississippi's other representative in the Senate, Sen. Roger Wicker, also defended Kavanaugh on Monday—before the latest allegations.
"These unsubstantiated, politically motivated accusations should not further delay the consideration of this well-regarded, highly qualified nominee," Wicker said in a press statement Monday. Democrats, he said, are not interested in "truth or justice."
Wicker's Democratic challenger, David Baria, tweeted out a banner with the words "BELIEVE WOMEN" and accused Wicker of putting "politics over people" on Monday.
The Senate Judiciary Committee plans to vote Friday on whether or not to advance Kavanaugh's nomination to the full Senate. In a press statement Monday, Baria called on Republicans to halt the process and investigate the women's claims.
"I find it particularly disappointing and disturbing that Republican members of the committee knew about these additional allegations and chose to continue this rush towards confirmation rather than pausing to fully investigate them," the Senate hopeful said. "The American people have a right to hear all of the facts and, perhaps more importantly, these women deserve to have their voices heard."
Next Tuesday, Oct. 2, Trump will join Hyde-Smith for a campaign rally in Southaven, Miss., just south of Memphis, Tenn. In August, Trump endorsed her over McDaniel. After the campaign announced the rally, McDaniel encouraged his supporters to attend.
McDaniel supporters booed and jeered Hyde-Smith as she spoke at the Neshoba County Fair in Philadelphia, Miss., in early August. Then, as now, McDaniel claimed Hyde-Smith had secretly voted for Hillary Clinton for president; his campaign continues to use Photoshopped images of Hyde-Smith and Clinton to make the point.
On Sept. 20, after Hyde-Smith condemned McDaniel for comments about African Americans and women, McDaniel tweeted that he was "not surprised" to see Hyde-Smith "using the same old Democrat playbook of race baiting and the gender card." She "sure sounds a whole lot like Hillary Clinton," he added.
On. Nov. 6, the same day as the national midterms, voters choose between Espy, Hyde-Smith and McDaniel in the U.S. Senate special election. Mississippi's other U.S. Senate seat, pitting Wicker against Baria, as well as House positions in each of the state's four congressional districts, are also on the ballot. Polls in the state are open from 7 a.m. to 7 p.m.
Ashton Pittman covers politics and elections for the Jackson Free Press. Follow him on Twitter @ashtonpittman. Email him at ashton@jacksonfreepress.com. Read more 2018 campaign coverage at jfp.ms/2018elections.