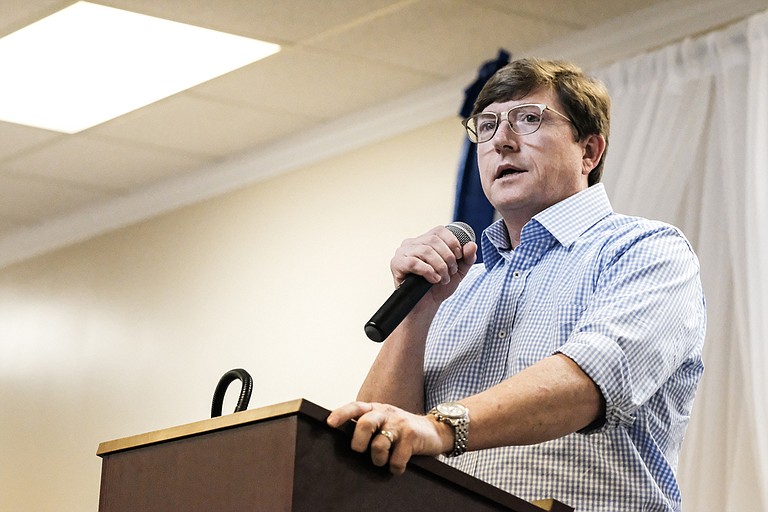 Friday, September 28, 2018
JACKSON — Democratic U.S. Senate candidate David Baria on Thursday criticized both of Mississippi's U.S. senators for comments they made about the women who have accused U.S. Supreme Court nominee Brett Kavanaugh of sexual misconduct.
On Wednesday, Sen. Roger Wicker, whom Baria is seeking to unseat in November's midterm elections, praised a speech by fellow Mississippi Sen. Cindy Hyde-Smith. In the remarks, she suggested Kavanaugh's accusers are participating in "character assassination."
"Strong floor speech from @SenHydeSmith on Judge Brett Kavanaugh and @SenateDems last-minute character assassination attempts," Wicker tweeted on Wednesday. "There should be no further delay in considering this highly-qualified nominee."
Hyde-Smith made the speech and Wicker sent the tweet out the day before Christine Blasey Ford, the first woman to accuse Kavanaugh of sexual assault, testified before the Senate on Thursday morning.
'Two Friends Having a Really Good Time'
After Ford's testimony Thursday, Baria slammed the two Republican senators.
"'Last minute character assassination' and 'no further delay' in confirmation aren't the type of comments made by a person who has an open mind to hearing what these women have to say," Baria tweeted, adding the hashtag, "#BelieveSurvivors."
Minutes before, her voice quivering, Ford alleged in testimony to the committee that, when she was 15 and he was 17, Kavanaugh held her down and attempted to rape her in a bedroom at a party while covering her mouth to stop her from screaming. His friend, Mark Judge, she alleged, watched and at times egged Kavanaugh on.
"I was underneath one of them while the two laughed," Ford said. "Two friends having a really good time with one another."
Twice, she said, Mark Judge jumped on top of the two of them, causing them to topple over the second time, at which point she escaped, hiding in the bathroom until she was able to exit the house.
Testifying later, Kavanaugh denied all of Ford's allegations and struck an unusually partisan tone for a Supreme Court nominee, invoking Bill and Hillary Clinton in his defense. In the 1990s, Kavanaugh was a member of the team of investigators that uncovered Bill Clinton's affair with Monica Lewinsky, leading to his impeachment.
"This whole two-week effort has been a calculated and orchestrated political hit fueled with apparent pent-up anger about President Trump and the 2016 election, fear that has been unfairly stoked about my judicial record, revenge on behalf of the Clintons, and millions of dollars in money from outside left-wing opposition groups," Kavanaugh said.
Kavanaugh has benefited from millions in outside support. The right-wing Judicial Crisis Network has spent at least $6 million running ads in support of Kavanaugh.
Mississippi Leaders Respond to Testimony
After Ford's testimony, Hyde-Smith sent out another tweet reiterating her belief in Kavanaugh.
"Let's be clear: Opponents of Judge Kavanaugh are engaged in character assassination to destroy the reputation of a devoted public servant and a loving husband and father," Hyde-Smith tweeted. "I will not stand by and watch it happen."
Chris McDaniel, the Republican state senator who is challenging Hyde-Smith for her seat in November's special election, called the behavior of Democrats at the hearing "disturbing" and said "they've lost all credibility."
In a tweet, Mississippi Gov. Phil Bryant praised U.S. Sen. Lindsey Graham, who, during Kavanaugh's hearing, shouted in rage at Democrats on the committee, calling the hearings "the most unethical sham since I've been in politics."
"My friend @LindseyGrahamSC brought the truth with him today," Bryant wrote.
As the Senate Judiciary Committee was set to vote to advance Kavanaugh's nomination on Friday morning, Hyde-Smith posted a flash poll asking followers to vote by react button whether or not they support his nomination.
"I've pledged my full support for Judge Brett Kavanaugh, and I will not stand by and watch his opponents damage his reputation, his career, and his family," Hyde-Smith wrote. "It's time to end the effort to destroy Judge Kavanaugh."
Petal Mayor Hal Marx, a 2019 Republican candidate for governor of Mississippi, tweeted his support for Kavanaugh Thursday. "The Left is the true Evil in our country," Marx wrote. "They will destroy lives to win their ideological battles. #ConfirmJudgeKavanaugh."
Two other women have accused the Supreme Court nominee of sexual assault, but the Senate has declined to call them for hearings. Deborah Ramirez alleges Kavanaugh exposed himself to her when they were in college; Julie Swetnick alleges she was gang raped at a party Kavanaugh attended, and that she witnessed him and his friends use drugs and alcohol to get girls "inebriated and disoriented so they could then be 'gang raped' in a side room or bedroom by a 'train' of numerous boys." Kavanaugh denies the allegations.
Previously, on Monday, Baria called for a halt in the process.
"The American people have a right to hear all of the facts, and perhaps more importantly, these women deserve to have their voices heard," the Senate hopeful said in a press statement.
Kavanaugh's nomination was expected to move forward Friday afternoon after a key member of the committee, Sen. Jeff Flake, R-Ariz., announced he would vote to advance the nominee to the full chamber. That was cast into doubt minutes before the vote, as Flake appeared to reconsider after several women confronted him in an elevator. "You're telling me that my assault doesn't matter," one of the women told Flake.
Afterward, Flake skipped a planned speech in support of Kavanaugh, speaking privately instead with his friend, Democratic U.S. Sen. Chris Coons of Connecticut, who called for Republicans to delay the vote.
On Nov. 6, the same day as the national midterms, voters choose between Espy, Hyde-Smith and McDaniel in the U.S. Senate special election. Mississippi's other U.S. Senate seat, pitting Wicker against Baria, as well as House seats in each of the state's four congressional districts, are also on the ballot. Polls in the state are open from 7 a.m. to 7 p.m.
UPDATE: Senate Advances Kavanaugh
The Senate Judiciary Committee voted to advance Kavanaugh's nomination to the full senate on a 10-11 party-line vote Friday afternoon, after a key senator, Sen. Jeff Flake, R-Ariz., announced he would vote to move forward.
After his announcement, Flake was several women accosted him in the elevator, imploring him to change his vote. "You're telling me that my assault doesn't matter," one of the women told him. After that, Flake negotiated an agreement among Republicans and Democrats on the committee to call for an FBI investigation into the allegations against Kavanaugh and delay the final confirmation vote by one week. The agreement is not binding; Republican Senate Majority Leader Mitch McConnell could still call for a vote on the floor sooner than agreed.
After the vote, Hyde-Smith tweeted out a photo with Graham.
"Lindsey had the guts to say what we've all been thinking," Hyde-Smith wrote, referring to Graham's speech on Thursday. "And he is absolutely right—Judge Kavanaugh has NOTHING to apologize for and remains a highly qualified nominee."
Ashton Pittman covers politics and elections for the Jackson Free Press. Follow him on Twitter @ashtonpittman. Email him at ashton@jacksonfreepress.com. Read more 2018 campaign coverage at jfp.ms/2018elections.