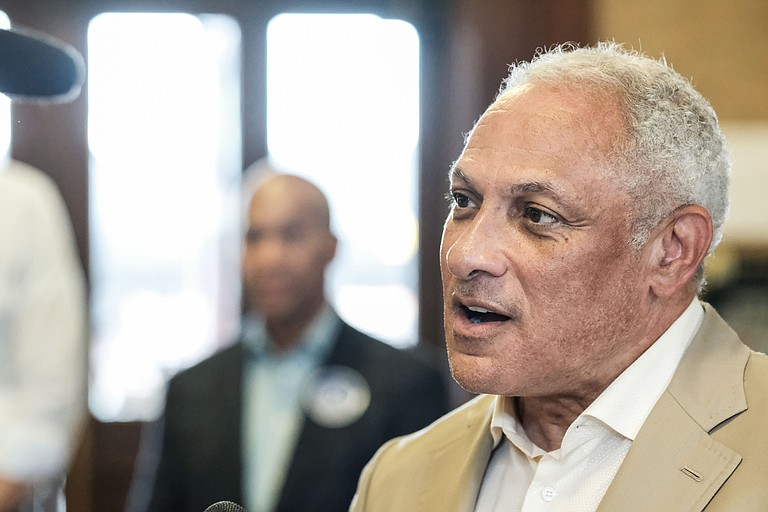 Friday, September 28, 2018
JACKSON—U.S. Sen. Cindy Hyde-Smith drew fire from her Democratic rival, former U.S. Secretary of Agriculture Mike Espy, for her position on Supreme Court nominee Brett Kavanaugh, who faces allegations of sexual assault.
Ahead of accuser Christine Blasey Ford's testimony before the Senate Judiciary Committee on Thursday, Hyde-Smith said in a Senate floor speech that it was her "duty" as Mississippi's first female in Congress to defend Kavanaugh.
In Ford's testimony, she described fearing for her life at age 15 as a 17-year-old Kavanaugh allegedly held her down on a bed, covered her mouth to stop her from screaming, and grinded against her while he and his friend, Mark Judge, laughed. Kavanaugh denied the allegations during the hearing on Thursday.
Minutes after Ford's testimony concluded, Hyde-Smith reiterated her support for Kavanaugh in a tweet. "Opponents of Judge Kavanaugh are engaged in character assassination to destroy the reputation of a devoted public servant and a loving husband and father," she wrote.
"These are serious allegations that merit further inquiry by the Federal Bureau of Investigation," Espy said in a statement Friday afternoon. "Sen. Cindy Hyde-Smith repeated her unwavering support for Judge Kavanaugh before Dr. Ford ever spoke. Voting on a lifetime appointment to the Supreme Court without a full investigation is irresponsible, wrong, and not the kind of leadership Mississippi deserves."
The criticism is notable. Throughout the campaign, Espy has shied away from criticizing his opponents, telling the Jackson Free Press in August that he prefers to focus on his own ideas instead.
FBI Investigation of Kavanaugh Launched
On Friday, senators on the committee advanced Kavanaugh's nomination to the full Senate, but decided to hold off on a final vote for a week to give the FBI time to investigate the allegations Ford and two other women made. President Trump then directed the FBI to launch an investigation, saying it must be completed within a week and limited in scope.
In a press release after the delay was announced, Republican Mississippi State Sen. Chris McDaniel, who is also challenging Hyde-Smith, criticized the decision, demanding an immediate vote on Kavanaugh's nomination.
"This vote needs to be held now," McDaniel said. "Not tomorrow. Not next week. The longer this obstruction drags on, the more the Kavanaugh family suffers."
Republicans who agree to the delay, McDaniel said, are aiding Democrats in an effort to "derail" Kavanaugh's ascent to the highest court in the land.
"Republicans holds a majority in the Senate, yet it seems Democrats are calling the shots," McDaniel said. "If (Senate Majority Leader) Mitch McConnell doesn't bring this vote to the floor immediately, he is just as complicit as the Democrats in failing to confirm Judge Kavanaugh."
Democrat David Baria, who is challenging Mississippi's other incumbent U.S. Senator, Roger Wicker, also criticized Hyde-Smith as well as Wicker for their positions on Kavanaugh.
Mississippi Gov. Phil Bryant appointed Hyde-Smith to her U.S. Senate seat in April, after long-serving Sen. Thad Cochran resigned due to ill health. On Oct. 2, Trump will join Hyde-Smith for a rally in DeSoto County in Northern Mississippi.
Voters choose between Espy, Hyde-Smith and McDaniel in a nonpartisan special election on Nov. 6—the same day as the national midterms. If no one gets more than 50 percent of the vote, the top-two vote-getters will face one another in a Nov. 27 runoff. Wicker and Baria also face off that day, and U.S. House seats are up in all four of Mississippi's congressional districts. Polls in Mississippi are open from 7 a.m. to 7 p.m.
Ashton Pittman covers politics and elections for the Jackson Free Press. Follow him on Twitter @ashtonpittman. Email him at ashton@jacksonfreepress.com. Read more 2018 campaign coverage at jfp.ms/2018elections.