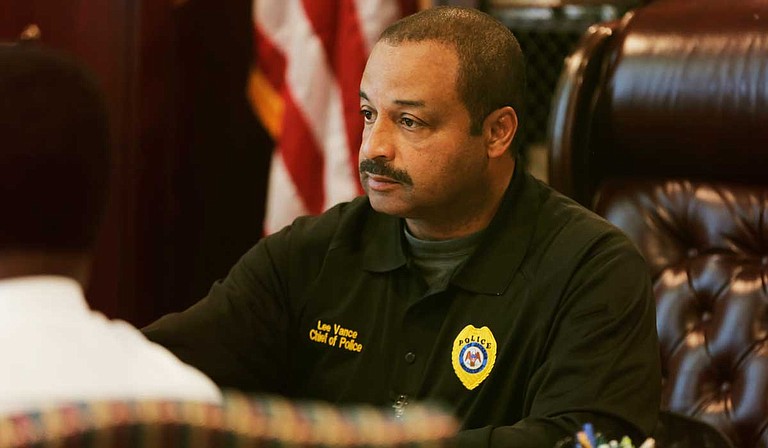 Almost suddenly, local crime politics have evolved from past decades of tough-on-crime and more-cops-now rhetoric when it comes to crime-fighting here, even if the reality on the ground doesn't yet match the rhetoric. But actual criminal-justice reform may be on the horizon locally if key Hinds County campaigns are any indication.
During the run-up to the Hinds County primaries on Aug. 6, the word "reform" flies around a lot in the two races that have the most direct effect on the local criminal-justice system—district attorney and sheriff—as well as from Marcus Williams, a young defense attorney running for Democratic Sen. John Horhn's seat. Mayor Chokwe A. Lumumba endorsed Williams this week.
The refrain is most prominent in the DA's race for the seat Robert Shuler Smith is vacating after 12 rather tumultuous years plagued by slow prosecutions and "reform" inconsistency. After all, the main job of the sheriff is to run a crumbling jail often packed with low-level offenders and people waiting for trial, sometimes for years. The next sheriff arguably could benefit the most from certain reforms, aside from the accused themselves and the community by extension, in not having to house and care for low-level offenders and those who cannot afford to pay fines.
The next district attorney, though, would likely be in the driver's seat of any system reforms; he or she now has a team of judges elected last year (including former DA Faye Peterson) who seem amenable to fixing what many consider a "broken" system and, especially, speeding up the process so someone does not sit in jail for six years without a trial, as Sheriff Victor Mason described one current inmate housed in the Raymond detention center, which he oversees.
All three of the DA candidates—long-time prosecutor Stanley Alexander, civil-rights attorney Jody Owens and defense attorney Darla Palmer—all support some kind of reform to the system, especially by not incarcerating low-level, non-violent offenders. They would opt instead for diversion programs and potential expungement so the offenders can build productive lives and avoid becoming more hardened criminals in jail.
But the similarities end there, as my recent podcasts with the three of them show (Listen to the podcasts posting this week at letstalkjackson.com).
A DA 'Reform' Spectrum
Southern Poverty Law Center alum Jody Owens is, predictably, the most reform-driven candidate and also drew an endorsement from the mayor, who himself promised more criminal reform than his police department has yet delivered (along with police collaborations and transparency issues that are the opposite of reform), as well as state Sen. David Blount of Jackson. Owens is drawing national attention (and money) in his race to be a "decarceral prosecutor"—meaning he would seek to lock up far fewer people and promises progressive reforms to the system as well as an overhaul of the systemic procedures. He plans to work with judges and law enforcement to reduce the backlogs, jail overcrowding and civil-rights violations of powerless people stuck in jail without a trial or because they cannot afford a fee.
Owens points to the need for "smart justice"—meaning alternatives to incarceration for non-violent offenses including drug crimes, while acknowledging the spiking homicide rate in Jackson. "I was on a radio station the other day, and people were clapping just because we didn't have a murder that day," he told me in his recent podcast.
The decarceral approach only goes so far, Owens said. "We have to convict violent offenders who terrorized our communities. We have to let people know that crime will not be tolerated in Hinds County, but that doesn't stop the cycle." That takes closer collaboration between agencies and the community, he said, especially since over-incarceration can actually make crime worse.
Owens is also concerned about over-policing, training and transparency, while not ignoring that officers are often overworked and underpaid.
The "reform" positions of Owens, who has fought to keep young people out of jail and prison, and Stanley Alexander are unexpectedly similar. A recent podcast with the long-time prosecutor in first Hinds County and now the Mississippi Attorney General's office (coming soon at Let's Talk Jackson Politics), where Alexander focuses on public integrity, revealed that he, too, wants to avoid incarceration of low-level and non-violent offenders, opting instead for diversion and drug-court programs.
"But we've got to do something because there is no consequence for doing wrong, you know, the good kid starts in. Well, why am I wasting my time trying to be a good kid?" Alexander said in his Let's Talk Jackson Politics podcast.
Alexander was the only DA candidate who pointed out that the problem with backlogs in the system often are about the difficulty of prosecuting cases of violent crime and murder, combined with poor work ethic and management that can plague the criminal-justice system without experienced leadership steering and righting the ship.
The biggest difference between Owens and Alexander, who was assistant DA to now Hinds County Circuit Judge Faye Peterson when she was the county's top prosecutor, seems to boil down to experience within the criminal system. "I'm actually the only person in the race who's actually taken a felony case and prosecuted it at trial," he told me.
That felony experience has ranged from prosecuting cases against former Mayor Frank Melton and current DA Smith, as well as many murder cases.
Alexander believes his intimate knowledge of the apparatus of being a prosecutor will enable him to start fixing the system and reducing pretrial detention times from his first day there.
The prosecutor says opponents may not share his belief that elected officials should be held accountable when a grand jury believes they may have broken the law—the "public integrity" aspect of his current position with the State of Mississippi. That work is not always popular—whether it is prosecuting police officers who shoot unarmed people, a sitting DA or state workers who steal.
"My job is to do what the grand jury tells me to do," he said. "And and that's the law, and that's what's fair," he said.
Defense attorney Darla Palmer is not a big fan of the "Smart Justice" movement that Owens represents, and she takes umbrage with the idea that the local criminal-justice system is 
"broken." Of the three DA candidates, she comes across as the most traditionally "tough on crime," focusing heavily on the rights of victims to see justice.
A crime victim herself, Palmer emphasizes that the district attorney's job is to prosecute criminals and lock them up as warranted so they are no longer a threat to the community. As for prevention, including with juveniles, she is blunt that it is not the DA's job.
Palmer sees the DA's role as communicating to young people what can happen to them if they commit crimes—basically a "scared straight" approach to steering them away from acting illegal.
Like her opponent, Palmer believes the office must be managed well with the DA taking a leadership role in reducing backlogs and long pretrial detention. She says her experience as a criminal defense attorney means she understands how the system works and helps her see what's needed to improve it.
Sheriffs Hopefuls on the Jail, Backlogs
By print time, the JFP had interviewed three of nine candidates for Hinds County sheriff for podcasts (all available soon at Let's Talk Jackson Politics). 
Current Sheriff Victor Mason, former JPD Chief Lee Vance and former JPD officer and Canton Assistant Chief Juan Cloy talked a lot about the need to reduce the backlogs at the Hinds County Detention Center in Raymond, improve the poor conditions of the facility, and the need for a new jail that is cheaper and safer over the long run.
They all addressed the pretrial backlog, which the sheriff does not control. All three said, however, that they would collaborate with other people in the system—judges, police, the new DA—to resolve those backlogs.
Mason, in particular, addressed scandal he was involved in as sheriff and federal warnings about the jail's conditions, saying he has personally learned much he wants to improve during his tenure. He and others called on the Hinds County Board of Supervisors to help improve conditions for both inmates and workers at the jail. (The JFP is sending questionnaires to supervisor candidates this week. Watch jfp.ms/2019Hinds for answers.)
Vance relied heavily on his experience, and obvious name recognition as a long-time police officer and chief in Jackson, emphasizing that he could build a coalition to improve conditions at the jail, as well as to participate in crime-fighting strategies, drawing on his familiarity with local conditions.
Cloy came across as the most reformist candidate for sheriff interviewed to date. A national speaker and trainer for police officers in negotiation and other law-enforcement skills, he emphasized the need for the sheriff to help lead in building a stronger criminal-justice system, using national evidence-based standards and best practices. He believes the sheriff should lead on efforts to redirect and prevent crime by juveniles.
Listen to podcasts dropping daily at letstalkjackson.com and see jfp.ms/2019Hinds for coverage and questionnaire answers and to comment. Sheriff candidates can schedule a podcast by emailing donna@jacksonfreepress.com. We will update this story as more interviews with sheriff candidates happen.