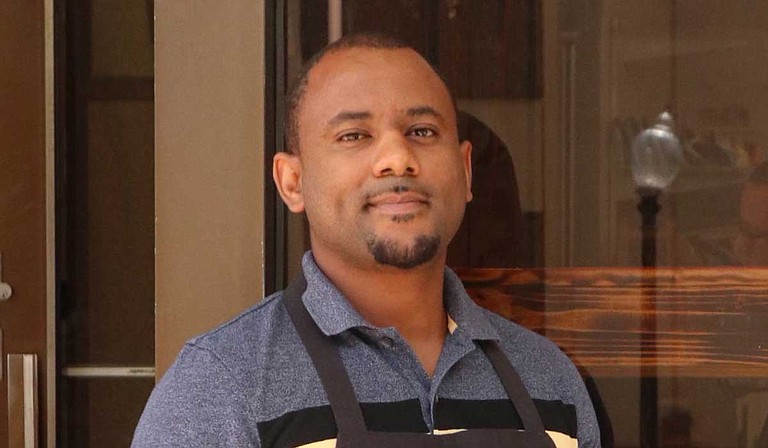 On the ground floor of Capital Towers downtown, a recently opened Jackson restaurant is offering something new (and healthy) to the city's cuisine. Shiro is an Ethiopian buffet-style restaurant facing Pearl Street at the corner of Congress.
The owner, Samuel Tilahun, moved to Jackson in 2018 to work as a software engineer for insurance company BlueCross BlueShield. He was disappointed to find no dining options for this African cuisine already popular in many U.S. cities.
"I've always had a passion for cooking, and I have extensively studied nutrition and how food affects the body," he says. "I saw opening a restaurant as a way to combine those interests in the perfect way."
Tilahun brought his concept to Yusef Ali, the owner of Aladdin Mediterranean Grill, because he had seen Ali's success and how much his restaurant had flourished. Ali agreed to come on as co-owner, and the journey began. Tilahun opened Shiro on Monday, April 29.
"Ethiopian food isn't common to the people of Jackson, so we're starting slow to give people a chance to get acquainted with the spicy, robust flavors used in the food," Tilahun says. "That is why we are ... buffet style, so that people can come in a try a number of things and see what best suits their palette."
The buffet includes chicken, beef, lamb, spicy lentils, turmeric split peas, collard greens, turmeric potatoes and carrots, injera, which is a traditional Ethiopian bread similar to a tortilla, and more. For breakfast, Shiro serves savory crepes, including one with grilled chicken and one with eggs and cheese, and sweet crepes such as banana and Nutella; and dishes from scrambled eggs and cheese to ful medames, which are slow-cooked fava beans. The restaurant also has a make-your-own salad bar.
Shiro has an app in development, one feature of which allows users to view the menu and place online orders for delivery. Another feature of the app will calculate the nutritional value of people's meals from the restaurant.
"Based on the guests' selections of proteins, carbs and vegetables, the app will calculate the minerals present, the fat content and the overall nutrition of the meal," Tilahun says. "I have always been very conscious of what goes into my body and making sure that I am eating the right things. I wanted to use my knowledge of nutrition to help my guests make the right choices as well."
Shiro Cafe & Restaurant (125 S. Congress St., Suite 106, 769-572-4555) is open Monday through Friday from 7:30 a.m. to 2:30 p.m. For more information, find the business on Facebook.