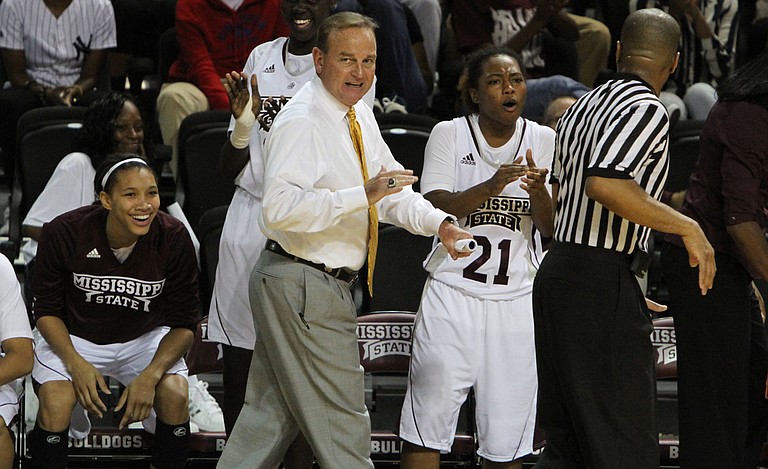 STARKVILLE, Miss. (AP) — Mississippi State's win over LSU provided a perfect picture of what coach Vic Schaefer is dealing with in a transition year.
Jordan Danberry scored 16 points and Jessika Carter had 13 points and 11 rebounds for her sixth double-double of the season, leading No. 10 Mississippi State to a 64-60 win over LSU on Thursday night.
Mississippi State (16-2, 4-0 SEC) had its 20-point lead in the second half dwindle to three points in the fourth quarter, but MSU held on to beat the Tigers (13-4, 3-2).
"You get (LSU) down 20 and we relaxed. I'm disappointed in myself," Schaefer said. "I thought offensively we were really stagnant in the fourth quarter and I'll take the blame for the play calling."
Mississippi State held LSU to six points in the second quarter and led 34-22 at halftime. MSU then opened the second half on a 10-0 run and increased its lead to 20 points. The Tigers slowly worked their way back into the game and got the lead down to three points at 63-60 with 20 seconds left.
Free throws were an issue for both teams as they combined to go 12 of 33. The Tigers went 5 of 16 from the line, and MSU was 8 of 19. The teams also combined to go 1 for 8 from the 3-point line, with the Tigers making the only shot from long distance.
"I do have a hard time understanding how you can be a basketball player and can't make a free throw," Schaefer said. "I'll coach that, too."
The Tigers had a 36-33 rebounding advantage and they out-scored MSU 18-9 in the fourth quarter, but the 20-point deficit was too much to overcome.
Ayanna Mitchell scored a game-high 22 points for LSU on 10-for-12 shooting and added 12 rebounds. The Tigers also got a double-double from Faustine Aifuwa, who had 10 points and 12 rebounds. Khayla Pointer had 14 points.
"Mississippi State is a great team, but we gave them everything that they wanted," Mitchell said. "They like to get to the paint, and they did that. The message was to be who we're supposed to be, and we came out after the first half and that's who we were."
Danberry led the Bulldogs with 16 points and five rebounds, and Andra Espinoza-Hunter scored 10 points.
BIG PICTURE
Mississippi State: Since dropping two-straight games to No. 3 Stanford and No. 17 West Virginia earlier in the season, the Bulldogs have reeled off eight consecutive wins and started 4-0 in league play heading into Monday night's matchup against No. 1 South Carolina.
LSU: The Tigers couldn't duplicate success from their win on the road against former top-10 Texas A&M and fell to 3-2 in SEC play.
UP NEXT
Mississippi State: At No. 1 South Carolina on Monday.
LSU: Hosts No. 11 Kentucky on Sunday.