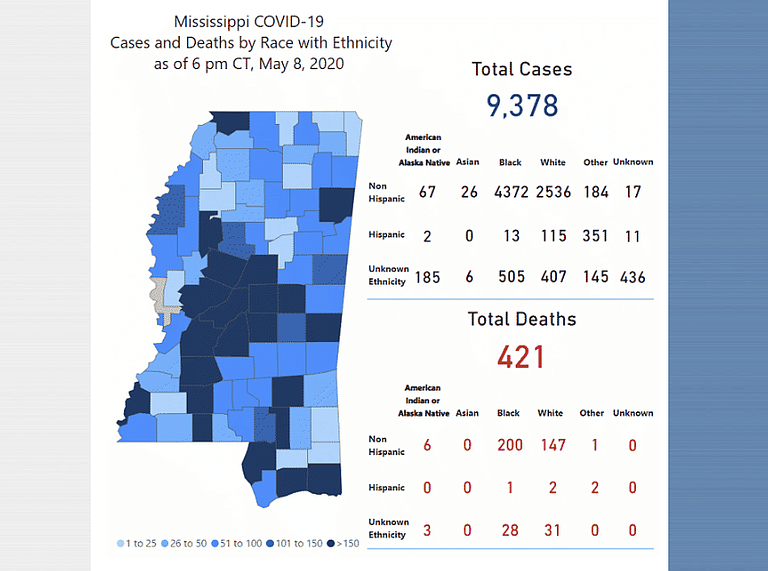 The day after Gov. Tate Reeves once again relaxed his "safer-at-home" order, the Mississippi State Department of Health reported 288 new cases of COVID-19 and 12 more deaths they attribute to the virus. The total number of reported cases since March 11 is now 9,378.
Two weeks ago, when he replaced his "shelter-at-home" order with the "safer-at-home" order, reopening some non-essential retail, Reeves said he thought the state was headed for a "plateau" of reported cases and deaths for a while. Data suggests the state is not yet on that plateau.
From April 11 to 17, the average was 190 new cases a day. From April 18 to 25, the average was up to 249 new daily cases as Reeves first announced his plan to reopen some non-essential retail; from April 26 to May 1, the average was essentially flat (246 daily cases). Over the past week, however, that average has gone up to about 277 cases per day.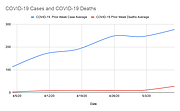 Dine-in service began for restaurants last week. Hair salons, barbershops and gyms can start reopening under the governor's latest guidelines.
The week's total deaths reported jumped up 45% this past week, from 291 to 421, in part because MSDH reported the results of death-certificate analysis from prior weeks.
In the Jackson metro area, Hinds, Rankin and Madison counties now report a total of 1,333 cases, a 37% jump since the 970 MSDH reported in last Saturday's total. In all three counties, 33 residents have died from the virus, or about 2.5% of cases.
Lauderdale County reports the highest number of deaths from COVID-19 at 42, with 26 of those deaths resulting from infections at long-term care facilities. About 9% of Lauderdale County residents who contracted the virus have also died from it.
Statewide, the fatality rate in reported cases is just under 4.5%.
Read full coverage of COVID-19 in Mississippi at jacksonfreepress.com/covid19.