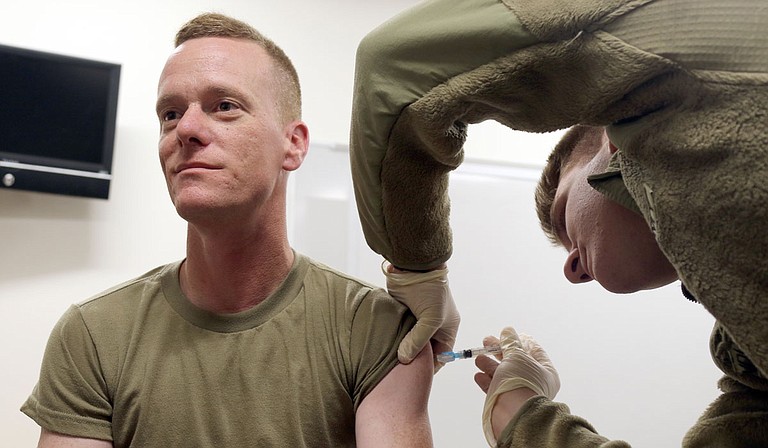 Mississippi's COVID-19 vaccination surge is underway, but public-health officials say not all available appointments are being filled, and are calling for eligible Missisippians to take the opportunity to protect themselves from the virus. As of Jan. 11, vaccine appointments are available at https://covidvaccine.umc.edu, as well as a phone hotline at 877-978-6453. Currently, all health-care workers and Mississippians 75 years of age or older may schedule their vaccinations.
The Mississippi Department of Health is working in conjunction with the University of Mississippi Medical Center to schedule appointments for anyone qualified for the vaccine. Drive-thru appointments are available after an initial screening, with locations open from 9 a.m. to 4 p.m. The vaccinations are free.
"Significant # of vaccine appointments open this week - Forrest, Jones, Jackson, Lafayette, Lauderdale, Lowndes, Neshoba, Pike, Washington," State Health Officer Thomas Dobbs tweeted this morning.
A full list of private vaccine providers, including clinics and hospitals is available on MSDH's website. Doses provided at these locations may incur an administrative fee, though the vaccine itself is free.
Out of 214,600 distributed doses, 54,714 have so far been administered. MSDH plans a tiered rollout by gradually lowering the qualifying age and widening availability based on occupational and health risks. The next phase will make vaccinations available to those 65 years of age and older, and to occupations including teachers, first responders and correctional officers.
As Mississippi races to widen vaccine accessibility, MSDH reported high numbers over the weekend. Friday's tally was 3,203 new cases with 46 deaths—almost as many as Thursday's record high of 3,255. Saturday's report showed 2,214 cases and 22 deaths, while Sunday saw 1,227 new cases and 19 fatalities. Total cases since coronavirus first hit the state are now at 240,309 with 5,186 deaths, though Dobbs has repeatedly explained that excess death counts tell the true cost of the virus, above 6,000 for the year of 2020.
Gov. Tate Reeves joined in the call for more Mississippians to take advantage of the vaccine availability, taking to social media to fill in the remaining spots.
"We have 491 vaccine appointments available tomorrow, and 400 on Tuesday! Please go to covidvaccine.UMC.edu for more info! And share with someone you love—especially if near Jones, Pike or Neshoba Co! We want to help as many people as we can, as quickly as possible," Reeves said yesterday on his official Facebook page.
Read the JFP's coverage of COVID-19 at jacksonfreepress.com/covid19. Get more details on preventive measures here. Email contributing reporter Julian Mills at julian@jacksonfreepress.com.